Welcome to Joe's Farm
Thank you for visiting Joe's Farm. We are located in Bixby, Oklahoma on the fertile bottomland of the Arkansas River. We are a certified organic farm and have been growing organically for 30 years. Our commitment to your health and well-being is our priority. 
Join our email list at the bottom of the page to stay up to date about all things Joe's Farm!
We are currently closed for the 2023 season, and will reopen in Spring of 2024!
Thank you for another great season, and we will see you next year!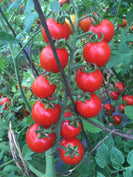 You-Pick Cherry Tomatoes
*Closed for the 2023 season*
Pick a 1.5 quart container of cherry tomatoes for only $12! No reservations necessary, come by any time during our business hours to pick.
We have a wide variety of cherry tomatoes in our field, such as midnight snack, sungold, juliet, braveheart, sunsugar & more.
Our Vision
Our commitment at Joe's Farm has always been to become better farmers. 
Understanding the complexities of the soil and how to enhance its abilities to grow healthy crops has been key to us producing nutrient-dense fruits and vegetables. God has given us the honor of being stewards of this land and we hope to hand it to the next generation better than we found it. Our vision is not only to produce high-quality food, but also to be a positive force in the community. We do that by providing a great place for people to bring their families and friends, as well as helping teach children about food and where it comes from. Our U-pick strawberries, flowers and blackberries provide a fun, hands-on learning experience and connection to the land. Hope to see you at the farm.
-Joe
Joe's Farm Location
Location: 12811 S. Sheridan Road, Bixby, OK 74008
Open Seasonally: March - August
Hours: *Closed for the 2023 season*